Coblux SL32R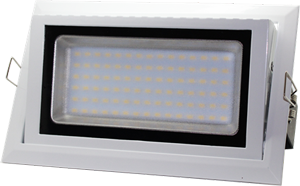 The CobluxSL32R is the ideal replacement for your traditional 150 w metal halide shop lighters. The greatest advantage of this latest model is the savings which can be made by converting to this LED shop lighter. You are going from 150 w + ballast to 32 watts, which is a saving of around 80% of your energy consumption, depending on the type of ballast. Based on current electricity prices, for an average shop operating 16 hours / day, the savings are about $200/year/light, imagine the money you can save!
Available in four different colour temperatures, you can ensure that your lighting satisfies the needs of your business from the warm white of an intimate coffee lounge to the cool white clarity of an optometrist. Can you imagine the visual impact of new light fittings tailored to the needs of your business? This is a great advantage over the traditional metal halide shop lighters, which are usually only available in one colour, cool white.
You can also save money with air conditioning costs, as the CobluxSL32R uses a superior heat sync, which is made from 6063-T5 class aluminium, and is designed for far greater heat transfer (201w/m.k.) in comparison to traditional metal halide shop lighters, meaning that it has a substantially lower operating temperature. This will also reduce the degradation of the LEDs and will preserve your CobluxSL32R for a longer period, not to mention the other benefits associated with heat reduction is your premises
The LEDs in our CobluxSL32R are superior quality manufactured by LG. The LG SMD 5630 has a technologically advanced Cob (circuit on board) LED. The unique advantage of this is its ability to not only give you the maximum lumen output per watt (100+ lm/wt) , but also its ability to provide beautiful colour rendering, surpassing 86%, meaning that your stock will be presented far more attractively to your customers. Also, the optical glass lens has up to 93% light transference, which is far greater than other products on the market.
Another huge advantage of the CobluxSL32R over traditional Metal Halide shop lighters is that they do not emit any harmful UV rays, which damage and fade stock. You will find that your stock's shelf life will be increased, with the advantage of presenting better to your customers.
The Coblux32R has passed all standards, including SAA, C Tick, ROHS, and CE along with being accepted under the NSW Energy Saving Scheme, ensuring you have a quality product which has passed all relevant standards. It also comes with a 3 year warranty, but you will find that the average lifespan of a CobluxSL32R should be over 10 years for a store using the CobluxSL32R around 12 hours / day, every day of the year.
To determine how much you will save per light, below is a table outlining the savings per light: